After poppin' my Ipsy cherry last month, I have to admit just how much I was anticipating August's bag!  Ipsy got me out here low key feeling fabulous!
So when my little golden bag arrived it was like Charlie receiving that ticket to the Chocolate Factory.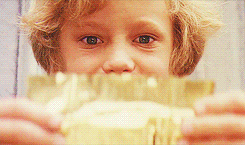 So without further ado; here's what was in my August Glam Bag:
Can I just start with how much I loved this bag?? I am all about my good vibes lately; from what I feed myself mentally, spiritually, emotionally and physically. Heck, especially the company I keep. How I treat myself matters so what a great affirmation for my self care bag to carry.
So here's the break down:
Face Food – Looooooooove it!Legitimately smells so good I want to eat it! Yes I know it's not actual edible food but c'mon!! It really does smell that good. I am generally a Clean and Clear gal and I tend not to stray much because I have a lot of acne outbreaks for someone past the bloom of youth. I let it sit for 20 minutes like it says in the directions; you'll know you're done because you will look like a little glazed donut. It rinses off really easy with lukewarm water and my face does indeed feel softer.
Hey Honey Face Scrub – I will be so honest with ya'll and let you know up front that I did not use this yet. So I will review this at a later date!
Sundays Nail Polish – I have not tried this either yawl! BUT I do have a good reason! I am a die hard nail salon addict. I have an acrylic overlay on my nails and I use gel polish. Though my toes are not gel; the salon I go to uses DNA Match which ensures your non gel polish still matches your gel polish. The likelihood of my personally using this is slim to none unless I use it as an in between pedis polish. I do love the color though.
Balm Voyage Eye-shadow– Can I just say I love the container it came in? Kinda opened like a miniature book. I'm a dork for things like that with no shame. I loved the color I was given; it was a neutral brown which is very subtle on my skin tone.
Makeup Forever Mascara-  As I've mentioned so many times before; I am an eyelash whore. So I was pretty excited to see mascara in my bag. I have been seeing Makeup Forever on Instagram a lot lately in reference to their HD Foundation which I am considering purchasing. I won't even let the fact that I hated this mascara deter me from buying it. Yes that's right, I am giving the mascara a thumbs down. I didn't like the formula, it felt clumpy and the brush applicator didn't help much. I've tried all sorts of mascara brands and formulas and this was by far one of my most unpleasant experiences.
In all I'm gonna give my August Glam bag a B+! Looking forward with much girly anticipation to September's Glam Bag. What was in your Ipsy bag this month? Share below or drop me links to your reviews!